Well, it is later than I said I would get it up but you know how that is! Also I wrote a new tutorial that I will be putting up on my tutorial blog after this. I hope you can enjoy both. This kit has 12 papers and a bunch of elements PLUS a quick page. More on the quick page in a bit.
Before I show you the quick page, I want to give credit for the fall flowers in this kit. They are freebies from "Justie" at
Just Creations
. She does give commercial use for her freebies but please check her Terms of Use completely if you use them. There are no posts on her blog now but you can still reach her using Comments. I hope she isn't ill! There are two zips for the kit just to make it a bit easier for downloading.
Zip 1
and
Zip 2
at my 4shared.
Okay now on the Quick Page, the preview has photos of my two oldest grandchildren, Mikey and Aly. Let me tell you the frames I made are BIG so I had to use the biggest photos I could find of them. I wanted to leave the frames as they are in the kit but please remember that you might want to open the photos you want to put in them as well as the frames so you can make sure they fit right.
The link for the Quick Page is
here
.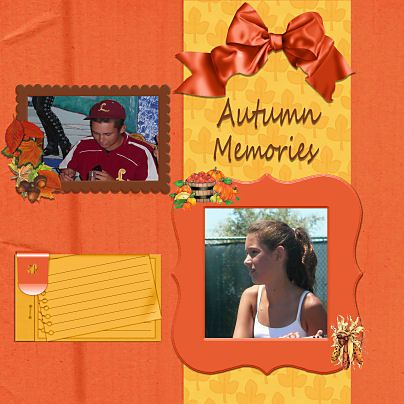 Aly was on the junior varsity tennis team of her high school this year. Mikey is a senior and he plays on the varsity baseball team. I am really proud of them both. I hope you enjoy the kit and quick page. I will announce here when the tutorial is ready. It is not a scrap tutorial but an animated tag one. Special credit to Donna at Learning PS for All Yahoo group for the tutorial on the cluster frame!