Hi, all, I have to show you what my 9-year-old granddaughter, Hanna, made last weekend for her parents using my Lovemusic kit. Now, you should know that she has never used any kind of image manipulation software in her short life but she wanted to make something. We opened Paint Shop Pro (version 9) and I showed her a few basics like how to open a file, copy, paste, move, etc. She caught on so quickly that I added very little instruction past that. Then she sent it to her parents from the program. I was so proud of her and amazed at how quickly kids in this generation learn technology. It is not just her....my 12-year-old granddaughter helped ME use new software for creating slide shows. The two of us got the first slide show done in about an hour but it would have taken me hours to do it since I had never worked with this software before. Aly has something similar to it on her laptop so had no problems showing me what to do. Anyway, here is is Hanna's card:
The rest of the new flower tubes are next. First is a grape hyacinth. I think it looks like it has ruffles along the edge. Bear in mind this flower is very tiny in real life....maybe 3/8"? It does look similar to grapes too.
Next is a tube from a photo taken last summer of one of the lavender roses. The buds and partial opening of the flower are much prettier than the completely open flower, for some reason. I love the color too. It will flower for months as long as we keep it cut back.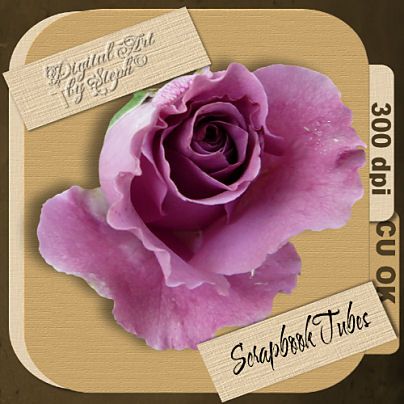 Last is a pink rosebud from the other rose bush we have. What is really strange about this bush is we never know what color the flowers are going to be each year. Why is that anyway? Last year was pink, year before it kind of a dark red, another year dark red with pink inner petals. Always a surprise! We have a new rose bush that promises peach roses and I can hardly wait to see them!
Remember, there is no drop shadow on the tube. Please read the Terms of Use carefully if you purchase the tube. They are all $2.00 but, if you buy before February 28, they are half off! Only ONE DOLLAR! Click on over to
Secret City Treasures
and see what is inside. You'll find my tubes in my store, Digital Art by Steph. We also have new designers so, if you haven't checked us out, do so!