Well, I hope you didn't give up on me but this has been one hectic week through today even! With the normal weekly pick up of grandchildren, I had Christmas and birthday shopping to do plus I had a get-together today of the Local Chapter of Paperback Swap. I came home after that (and thank God we broke off early) and worked on my laptop so my daughter could use it as a DVD player tonight for the BIG slumber party. Hanna turned 9 on Wednesday and she is having her first, ever, slumber party tonight. She has had a big week. Oh, for her birthday present from her parents, she got her ears pierced. She was SO excited by that.
Okay, now on to the kit. I actually finished it a few days ago but just wasn't here at my computer long enough to get all that needed to be done to get it published here. It is now ready. Whew! As I mentioned, it IS a big kit (almost 200mb) and I hope you enjoy all of it. There are two sections to it: first the papers.
There are 24 papers and I honestly don't know why they are so big in kb size but they are. There are TWO zip files that you can get at
GBL Creations
- once you log in, click on "add" and proceed through the checkout pages, you'll see both zips to download. I split them up for those of you who have slower connection speeds. Freebie is no longer available. Now the elements: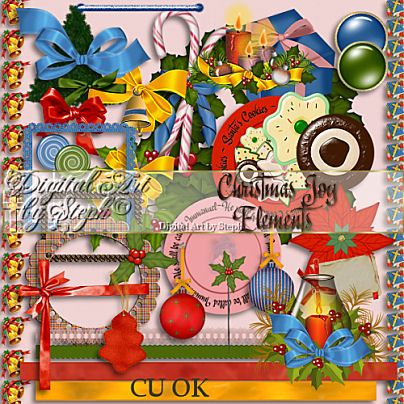 This is just a sampling of the elements because there are so many different things in this kit that you'd get a fuzzy idea of what it all is if I put everything in this preview. As usual, there are no drop shadows on them - ever! Again, just hop on over to
GBL Creations
and grab the files there. Freebie is no longer available. I do hope you make some fabulous pages for your scrapbooks with all this stuff. I really had fun learning new techniques and using shortcuts. I love making grayscale elements and then colorizing away! :) Please remember if you have any problems getting the files at GBL Creations, you can email me or Liz, the store owner for help. Please enjoy! Oh, the letter ornaments are in a separate file that I'll send you tomorrow night. I can barely keep my eyes open here.