Hello, everyone, hope you had a great weekend! It rained (finally) here on Friday and it was, for us, a cold rain. The last two days have been unusually cold for this time of year. We normally don't get cold weather until the end of December. I guess we will have a longer winter than normal. I am not complaining either about it since the heater takes less money to run than the air conditioner. :)
I made some new frames using the papers from my Autumn09 kit. I seem to need frames that are "unique" or different on a page instead of using the same ones over and over. I hope these are useful to you. I did learn some things recently...in order to cut out things like these frames you need a special knife (Exacto is one brand name I know) and a paper punch. If you do cutting like this, make sure you have a "self-healing mat" under the design you are cutting out to avoid damaging your table or desk. You probably already knew this but I didn't! I decided to have a look around some scrapbook sites to learn what is done in "real life" and really got an education.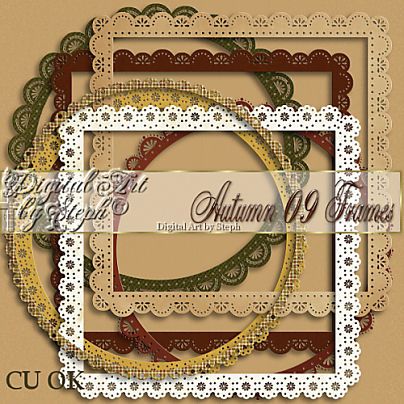 With regard to my little survey, most of you wrote that you have no problems getting files from
GBL Creations
. However, there were a few of you who had various issues with the store, all of which I totally understand, having had problems myself at other stores out there. So, with both sides in mind, I have put the files in both places so you have a choice of where to download. If you wish to use
GBL Creations
, that is great - you know what to do: log in, and click on my designer name and click on this preview for downloading. Freebie is no longer available. I hope you enjoy the frames!