Hello, everyone! I hope you had a fabulous Thanksgiving (those of you who live in the U.S. anyway). Did anyone brave the shopping on Friday? My daughter thought that she'd drop by Walmart on her way to work and get a couple of items on her shopping list that were on sale for a good price (just in case Hanna reads my blog, I am not saying what - lol). The WalMart by her work is right off the freeway so she is thinking she can just hop off, zip in there and get the stuff and get out. Foolish woman that she is! When she was telling me this story, I was smiling, knowing what was to come. First of all, there was NO parking at all. I need to mention here that it was 5:20 a.m....yes, you read that right, and there was NO parking! She cruised the parking lot until she finally got a spot, ran to the place in the store where the items are sold. On her way there, she notices that the lines are clear to the back of the store. It took an hour to get two items! Oh, by the way, the items she wanted to buy were not in stock but she could get the next model up (of course) for a greatly reduced price. She went ahead and bought them since the gifts are a major part of the kids' Christmases. Once Christmas is behind us, I'll tell you what they are. :)
Anyway, I got off track here. I have been working on a huge Christmas kit for you all and, in fact, may have to send it to you in parts. I keep getting ideas for it and, if I don't know how to make it, then I try to find a tutorial in either PS or PSP for it. Slows me down some, needless to say. Your first item is the alpha I made. I saw these sparkly initials for sale at the drugstore and actually found a tutorial for something similar. This alpha is also part of the kit but as ornaments on the tree - I have added a small gold ring for "hanging" the initial.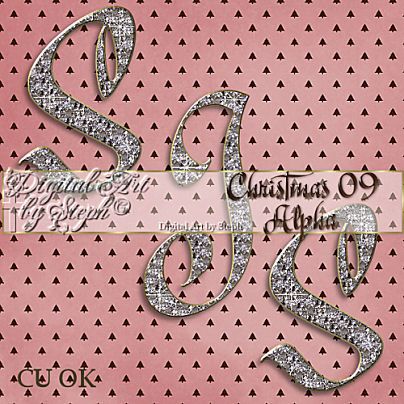 I will make one more alpha for Christmas later for you. You may download the zip file at
GBL Creations
. I hope you enjoy the alpha.
Please
NOTE
: since everything from apples to zucchini has gone up in price, money is tighter in my household. I don't believe I will renew my large folder at 4shared in March and will have a regular sized folder. Due to that reason, all my zip files will have an expiration date from now on. This file will expire January 15, 2010. To give you all time to grab whatever you want at my 4shared, I will not retire any zips until January 15, 2010 and I will remind you at least one more time of the coming expiration. I am sure you understand since all of us are feeling the bite of our worthless dollar. :(