Hello, again, and, as promised, here is my newest kit for you. I think I have mentioned this many times but autumn is my favorite season. The weather is getting crisp so I can bake and cook things in the oven without overheating the house, holidays are coming and the trees are beautiful. I recently saved a new photo taken by a professional that had the prettiest autumn colors in it. I used the photo for my kit colors.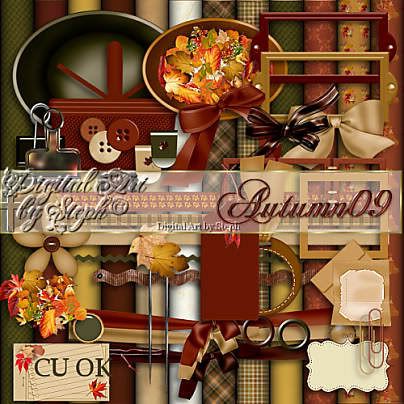 The kit isn't huge but it does have 12 papers, bows, brads, buttons, flowers, all kinds of other fasteners, ribbons, frames, etc. A little of everything. You can download the kit at
GBL Creations
right now. Head on over there, log in, look around then click on my designer name: Digital Arts by Steph and click on the preview. Add it to your "cart" and check out. There are some beautiful new scripts by Joanne (JDD) and Bonnie (Cancer Moon Creations), tubes and kits by all the designers so be sure and check them out. Please enjoy the kit!